We manufacture both standard & custom-engineered wire baskets.
Which will best suit your needs?
Learn more below about these two options:
Made-to-order baskets available in a variety of standard shapes, sizes & options.
Our convenient online store AnySizeBasket.com is home to our catalog of made-to-order wire and mesh baskets. Choose from a variety of standard, pre-engineered designs and a wide menu of material, lining, lid and handle options.
Best for simple applications that are not highly-specialized
All AnySizeBasket.com products are manufactured by Three M Tool
Free shipping
No minimum order
Most orders ship within 2 weeks
Several ready-to-ship products offered
Custom-Engineered Wire Baskets
We'll work with you to design and manufacture a basket tailored to your application.
Have requirements not met by standard basket designs? Need a wire or mesh solution to a complex or highly-specialized problem? Let our experts engineer a custom product that's specific to you.
Best for complex needs & specialized applications
Fully-customized solutions made in direct collaboration with you & your needs
Can include non-standard features such as unique sizes/shapes, interior components, higher tolerances, surface coatings/finishes, etc.

Most orders ship in 4-8 weeks
Not sure what you need? We can help
Our Custom Engineering Process
Three M Tool's custom engineering process is a reflection of our commitment to comprehensively meeting the needs of our clients, helping them to overcome challenges and solve problems. Our multi-disciplinary team will work closely with you to fully understand your needs and custom-engineer a design that balances performance, value, efficiency and quality via our four-step process: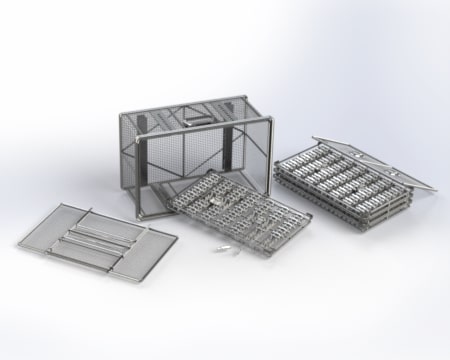 Our customer needed a carrier basket and insert trays to hold small parts during the cleaning process.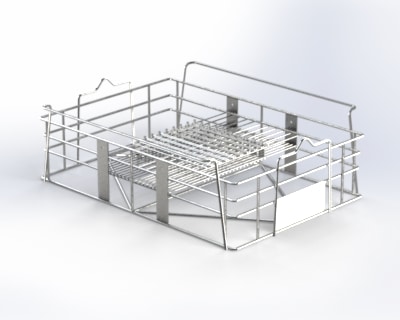 Our customer, the largest jet engine remanufacturing facility in the US, required a basket system to organise the turbine vane and blade parts through their process.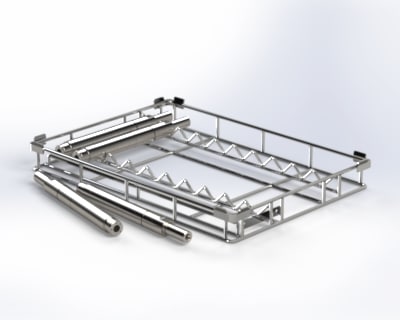 Our customer manufactures close tolerance shafts with highly polished surfaces that needed to be cleaned before final assembly.
Let's talk about your needs.
The expert TMT team will consult with you to recommend the best wire and mesh basket solution for your application.