WIRE MESH BASKETS FOR PARTS CLEANING & WASHING
Custom Parts Cleaning Baskets
Let the Three M Tool team custom engineer a wire basket to suit your unique parts cleaning and washing needs.
Custom Wire Baskets for Parts Cleaning
Our custom wire baskets are used within parts washers to hold workpieces, tools, and machine tool components during cleaning. The basket's wire mesh body allows water and cleaning solutions to pass through effortlessly and make contact with all surfaces of the parts—even the most difficult to reach.
Our versatile wire baskets for parts cleaning and washing have been used in a wide variety of industries. You'll find Three M Tool custom cleaning baskets serving industries including:
Aviation
General Manufacturing
Medical/Medical Device Manufacturing
Our design and manufacturing process allows us to offer many standard and custom features and additional services as required by your application. We frequently manufacture unique lids and dividers for parts cleaning and washing baskets to keep parts secure during cleaning and transportation. We have also designed and implemented new
grid configurations
,
specialized welding processes
, and other innovations to meet our customers' needs. We proudly partner with trusted vendors for additional services like electropolishing, nylon, Halar or Teflon powder coating, and zinc plating.
Selecting a base material for a wire basket design is a balancing act between material characteristics: Weight vs. strength, cost vs. corrosion resistance, etc. We strive to optimize performance by understanding each material's strengths and weaknesses to choose the best material for each application. Below is an overview of our most commonly-used materials and their recommended usages:
The most common of the industrial stainless steel grades, 304 stainless steel is readily available in a wide variety of shapes and sizes and is relatively easy to form and weld. Good for high-temperature applications (up to 1200° F,) wet and mildly caustic environments. Can be powder coated for added part protection. Electropolishing is recommended for all ultrasonic applications.
Slightly stronger than 304 stainless, with better corrosion resistance and better high temperature strength, 316 stainless steel is readily available in most shapes. Compared to 304, it is still relatively easy to form and weld. Good for high-temperature applications (up to 1600° F,) salt water environments, and acidic and alkaline environments. Can be powder coated for added part protection. Electropolishing is recommended for all ultrasonic applications.
Better high-temperature strength than both 304 and 316 stainless (up to 2200° F.) Limited selection of shapes available. Higher nickel content makes it more difficult to form and weld. Good corrosion resistance in acidic and alkaline environments. These qualities also apply to other high nickel-content alloys.
Also called mild steel, carbon steel is strong, inexpensive, easy to form and weld, and readily available in a wide variety of shapes and sizes. Carbon steel is a great choice for manual solvent cleaning, oil dipping, and indoor material handling applications. It offers very limited corrosion resistance in its natural finish, and is therefore generally not recommended for wet locations, acidic and alkaline environments, or ultrasonic or aqueous cleaning applications.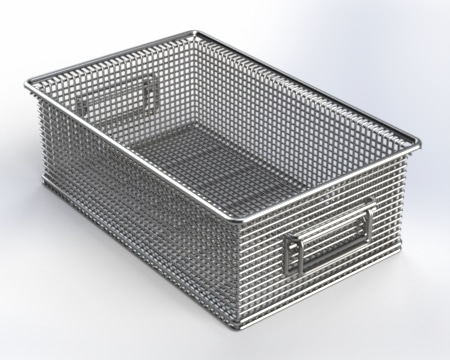 We created a US-manufactured equivalent of a European-style precision cleaning basket. The European-style baskets are rugged yet extremely smooth, with large openings to effectively clean all types of manufactured parts.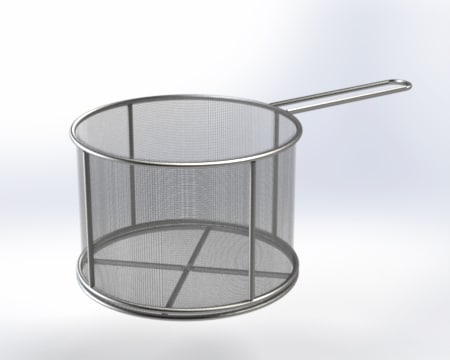 Our customer needed a durable wire mesh parts cleaning basket that would stand up to the rigors of constant industrial parts washing and have rigid loop handles for easy part agitation.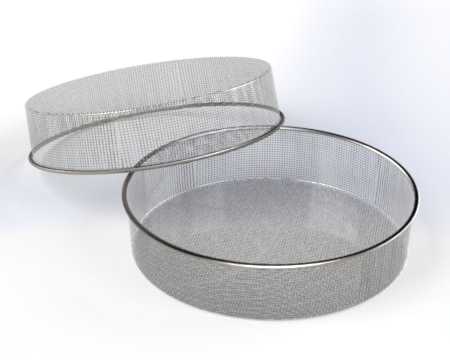 Our customer manufacturers enclosed grit blasting (sand blasting) booths. They needed a reclaimer screen that would offer durability and precise filtration at a price point that made sense for a "semi-consumable" product.
Before deciding what material to use, we first need to determine which mesh construction will work best for you. There are two constructions: welded and woven.
Welded Wire Mesh: Cross wires are laid on top of long wires and are resistance welded together at each intersection creating very even square openings.
Welded mesh usually has larger opening sizes
Welded creates one even surface size, as all wires are straight and on the same plane
Welded can have heavier wire gauge and typically the more rigid mesh option
Woven Wire Mesh: Wires are woven, over-under-over-under, to create the mesh.
Woven is much more flexible
Woven is great for one-piece construction of pans, bowls, or frame-less baskets
Its woven construction creates a bumpy surface feel but allows for smaller openings.
Once we determine which mesh construction you will use, our team will provide recommendations on which material will work best for your project.
We can modify any design to suit a certain need. Dividers, part locators, grids, etc. can all be modified.
A good rule is to start by looking for an Opening Size that will properly contain your parts, then search for the largest Open Percentage near or slightly smaller than that opening size, keeping an eye on the wire diameters of the mesh (larger is stronger but heavier)
Opening Size: This is the approximate size of the square hole between the mesh wires. The opening size should be slightly smaller than the smallest part dimension. Obviously, if the mesh opening size is bigger than the parts, the parts will poke thru or fall out. On the other hand, if the mesh opening size is needlessly small, flow thru the basket will be diminished.
Open Space Percentage: Wire mesh is used to keep something on one side while letting something else flow thru. Open Percentage measures the portion of surface area that is open, not blocked by the wires. The higher the Open Percentage, the better the flow. In general, wire mesh is more open that perforate metal for the same opening size (because the wires between the holes are thinner than the web in perforated metal)
Wire Mesh Size Designations: Let's take a deeper look at the effects of the mesh construction.

Design Effects of Mesh Number (wires per inch): The Mesh Number describes how close the wires are to each other. A higher Mesh Number means the wires are tighter together, the Opening Size is smaller and the Open Percentage is lower (assuming the same wire diameter). Tightly spaced wires (higher Mesh Number) using large diameter wires creates a mesh that is extremely rigid and heavy, but expensive and difficult to work with. The opposite is also not desirable. Widely spaced wires (lower Mesh Number) using small diameter wires creates a mesh that can be difficult to work with because it's too flimsy and the wires shift within the weave.
Design Effects of Wire Diameter: The diameter of the wire used in the mesh contributes to the strength, rigidity, and weight of the mesh. Large diameter wires (over 0.080″) make very strong mesh but can make a basket very heavy. Smaller diameter wires (under 0.020″) are light and very easy to work with, but can tear easily if parts are heavy with sharp corners or points.
Let's talk about your needs.
Reach out to our friendly, knowledgeable team to discuss your custom metal wire, mesh, or rod project today!